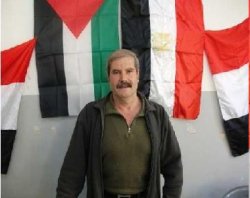 Ahmad Soleiman Moussa Katamesh was born in Elbireh on January 1st, 1950. He is a Palestinian writer and researcher, deprived of freedom for the last 21 months, under administrative detention without any charge or trail. He is detained at the OFER prison. He is an opinion prisoner, claims Amnesty International who requests his release.
Ahmad Katamesh was first arrested in September 1992 after he had been searched for by the occupying power during
17 years. He was suspected to be the spearhead of the underground struggle in the Palestinian occupied territories, and to be one of the main leaders of the Popular Front for the Liberation of Palestine (PFLP) in the West Bank.
He had been submitted to an extremely violent questioning which lasted 100 days and nearly left him blind.
His release was ordered twice, in December 1992 by the Israeli Supreme Court, and in October 1993 by a military judge. But this remained null and void until April 1998, resulting in 5 years and 8 months of detention of a Palestinian prisoner without any charge or trial.
On April 2011, the occupying military forces attacked the writer's house, took his wife, his daughter and two female neighbours hostages to force him to surrender. Called by phone Ahmad Katamesh came immediatly back home, he was arrested again and taken under administrative detention. Since then, a large number of serious and intentional violations of the human rights have been committed against him.
After his arrest, Katamesh was detained for 13 days during which he was questioned during 10 minutes only ; on May 3rd, the Israeli authorities informed him that he was, from then on, under administrative detention, despite a former announcement of the military court delivered to him and to his lawyer, that we would be released on this very day.
Human right organisations expressed their surprise concerning this detention. Adameer immediately requested his release claiming this was an arbitrary detention aimed at muffling the author because of his radical criticism of the Israeli occupation. Amnesty International also requested his release, calling him an opinion prisoner, highlighting that his detention happened right after he published a book which deals with the various ways to vanish in the Palestinian territories, and where he tells his own 17 year experience of disappearance in "the secret revolutionary organisation" throughout 680 pages full of informations and of secrets.
Ahmad Katamesh is well known in the Arab world. He has written many political and philosophical studies. Among the most important : "Introduction to alternative formulation", Approach to the one democratic state", and "Two distinct and interlocked societies".
Moncef Chahed, AFPS "Prisoners" Working Group. Translated by R.P.